#1 On Long Island for Mold Testing & Removal
When it comes to mold in your home or office, there is one good thing about it. Sometimes you can actually see it! Whether it is in the cracks and corners or your walls or on the ceiling, you may notice it. However, that is not always the case. Sometimes mold will grow in your ducts or between walls. And not only that, but sometimes it forms a cluster so small it is imperceptible to the human eye. It is important to understand when you need someone to inspect for mold, because you do not want a buildup of it that will impact your health. Let the professionals at NY Indoor Air Quality Solutions come and inspect for mold if you have a suspicion. Your health is important and breathing healthy air leads to less illness.
Situations That Lead to Mold Inspections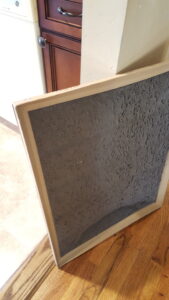 Here are a few situations when you should have our inspection team check for mold:
Water damage: Whenever you experience water damage, you should get a professional mold inspection. So if your basement flooded, roof leaked, or a broken pipe sprayed water everywhere, then there is a good possibility of mold existing. On top of those scenarios, any place that got wet and was not quickly dried (within 24 to 48 hours) can also grow mold.
Purchasing a new home: When you buy a new home, there is no way to know exactly what kind of water damage may have happened. So a professional mold inspection will get to the bottom of it and give you a better understanding (and peace of mind!) about whether or not you need to remove mold.
After a house has been unoccupied: When a house has been closed up and/or unoccupied for months or years, then there is a likelihood of mold growth. Humidity builds up in these situations, since there is no controlled air, and leads to mold growth.
After mold remediation: Professional mold remediation has the aim of removing all signs and growths of mold. However, it can be difficult to get all at once. So if you recently had mold remediation done, then having mold inspections afterwards will check to see if further action is required.
You see some mold: If you see something that looks like mold, then we recommend a mold inspection. Seeing green, blue, black or white stuff growing in your house is not a good sign and should be checked immediately. Because when you see some mold, it might not be restricted to one location.
There are also some common signs, symptoms and illnesses that derive from mold being in the home. Learn more about these signs that lead to potential illness. Our aim is to keep the air you are breathing safe and clean. Do not take any chances with your health.
Mold Inspection vs. Mold Testing
When it comes to mold in your home, there are a few different options at your disposal. Most pointedly having a mold inspection or mold testing done. These two options do slightly differ in what they accomplish. A mold inspection simply identifies the presence of mold. And in most cases can define the general size of the mold problem at hand. However, mold testing attempts to identify exactly what type of mold is present and how many mold spores are in the air.
It is important to keep in mind that getting the results in a home can be difficult. There needs to be a controlled environment, which is tough to get in a home setting. So sometimes results may vary from test to test. But we have years of experience performing mold tests for homes and businesses on Long Island and our results are reliable.
When it comes to mold testing, all indoor spaces have mold spores that will drift in from the outdoors. At the end of the day, a mold test will show a long list of species. However, not all are actually growing in your home. Once we have this list, we can further eliminate some of the possibilities.
Lastly, when it comes to mold testing, it is important to note that the EPA does not have a set of guidelines for what amount of mold or mold spores is acceptable in a home. For this reason, mold testing is not always useful. Instead, looking for growing colonies is a more surefire way of finding dangerous mold growth in the home.
Contact NY Indoor Air Quality Solutions Today
When it comes to mold inspections and mold testing on Long Island, many turn to us for professional and dependable results. Learn more about what happens during an inspection. Getting an inspection is a great way to check if there is mold growth. Don't keep breathing in potentially harmful air and schedule an appointment today. The number for our office is 631-275-5999.
If we find mold growth, our team offers professional mold cleanup services for home and business owners on Long Island, New York. Get the best services regarding mold and air quality inspections in the area.