#1 Mold Cleanup Team on Long Island, New York
New York Indoor Air Quality Solutions offers professional mold cleanup services for clients throughout Long Island, New York. Mike Shain, owner of NYIAQ, is a fully licensed technician and will effectively eliminate mold and other allergens from start to finish. Did you know that mold is the cause of many kinds of respiratory illnesses and affects people of all ages? So it is important to remediate the mold as soon as possible, especially if you have children in the house.
Check out all of the air quality and mold services we offer people across Long Island. For more information about our services, please reach out to us today. You can also give our office a call at 631-275-5999. When you call, we can discuss the mold issues you are having and if you need a cleanup. Also, feel free to check out the CDC website for their mold guidelines. They offer great information to help with any sort of mold cleanup. Get the best in mold cleanup when you turn to Mike Shain of NYIAQ. Working with clients across Long Island, including the east end and the Hamptons.
Mold Cleanup For Buildings, Homes, & Schools
When mold starts growing in homes and buildings, that means you have a problem with water and/or moisture. So when we start the cleanup of mold, this is the first aspect we address.
To start, we remove any moldy items from the living areas. Hopefully this is somewhat limited to items and objects we can easily remove, because the most sure way to eliminate the mold is to completely remove it. What you want to avoid is for the mold to start growing in the carpet, insulation, ceiling tiles, drywall, or wallboard. If it is, then this is a much bigger undertaking.
During the mold cleanup, it is important to properly clean and dry the area. Many still have an allergic reaction to parts of the dead mold and mold contamination if there is still a source of moisture. So it is important for the cleanup to be thorough and to find all traces of mold. We suggest to remove or replace carpets and upholstery that have been soaked and cannot be effectively dried.
How To Remove Mold
When you need to remove mold, you can remove it from hard surfaces with simple commercial products, soap and water, and bleach solutions. When you opt for bleach for the undertaking of mold cleanup, then the CDC recommends no more than 1 cup (8 ounces) of bleach in 1 gallon of water to effectively kill mold on surfaces. Do not ever mix bleach with ammonia or other household cleaners.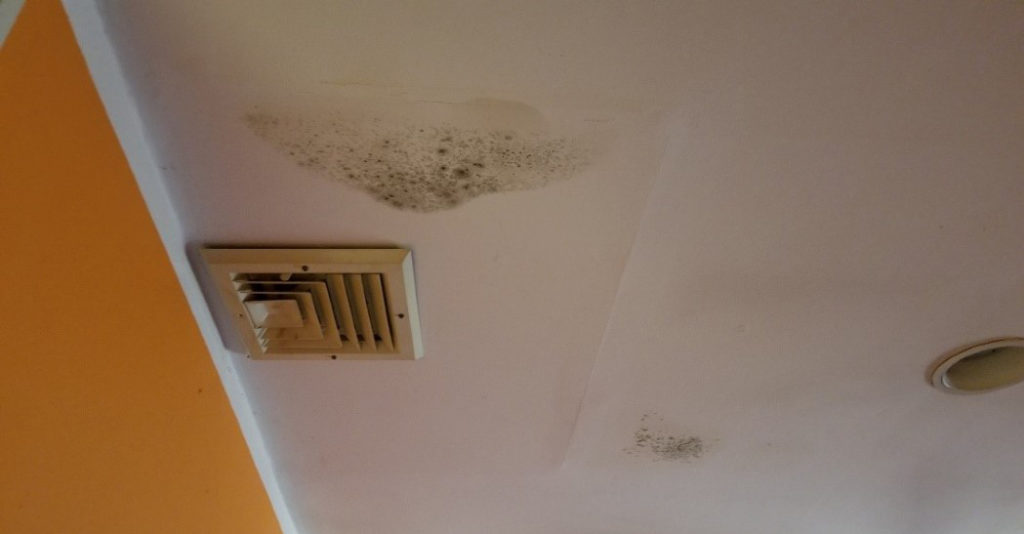 Tips on Using Bleach For Mold Cleanup
As mentioned, using bleach requires precaution. Here are some tips from the CDC if you choose to use bleach to clean up any mold in your home or office:
Never mix bleach with ammonia or other household cleaners. When you mix bleach with ammonia or other cleaning products you will produce toxic fumes dangerous to your health.
Open any windows and doors to provide an abundance fresh air.
Wear non-porous gloves and protective eye wear.
Of course, these tips only carry as much weight as you'd like. We recommend if the mold issue requires professional cleanup, then to reach out to New York Indoor Air Quality Solutions today. We have years of experience handling these jobs and will effectively rid the mold from the premises.
How To Prevent Mold Growth
If you had a recent flood or water issue, then you are more susceptible to mold growth. To avoid a potential large mold cleanup job, we recommend you clean up and dry out your home thoroughly. And do so within 24-48 hours after the flooding.
The use of a wet vacuum can be very effective in removing any remaining water, dirt and debris. Scrub all cleanable surfaces, including wood, tile, stone, with soapy water and a bristle brush. You also must clean all hard surfaces, like the flooring, molding, wood and metal furniture, countertops, and sinks. Do so with water and dish detergent.
Then, dry surfaces quickly and thoroughly after the cleaning. If you have a fan, air conditioner or dehumidifier that wasn't affected by flooding use it to help the surfaces dry after you finish cleaning. This process is a lot, but it much better to prevent the growth of mold than to have a cleanup operation.