NY IAQ Solutions Is in Compliance with The NY State Mold Assessment and Remediation Licensing Laws That Have Been Implemented as of January 01, 2016
We are a licensed mold assessor for clients throughout Long Island, New York. We are always staying up to date on all of the laws guiding our profession. Effective January 1, 2016 all Mold Remediation Contractors, and Assessors must be licensed by the New York State Department of Labor. The licensing requirements state that no person shall be licensed to conduct mold-related services unless they:
(a) are eighteen years of age or older.
(b) have satisfactorily completed the Department of Labor-approved course work. This includes training on the appropriate use and care of personal protection equipment as approved by the Commissioner of the Department of Health.
(c) and have paid the appropriate fees.
The licensing requirements prohibit any contractor to engage in mold assessment or mold remediation without a valid license issued by the Commissioner of Labor. This license must be present and on display at the worksite. The bill also prohibits a person licensed to perform mold-related services from acting as both the mold assessor and the mold remediation contractor.
In other words, contractors can no longer provide mold inspections and perform the remediation, too. So, individuals can only hire a licensed mold assessor or a licensed mold remediator. NOT BOTH. Read more about mold programs in New York State, and other various information about mold.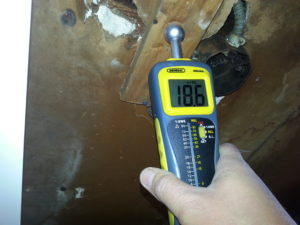 Long Island Mold Assessors
Persons who conduct home inspections as part of potential real estate transactions must also be a licensed "Mold Assessor." This is because their inspections and reports include an assessment of mold conditions in the home or property in question. So they need to provide work that is trusted.
A "mold assessment" is an inspection or assessment of real property that aims to discover mold, conditions that facilitate mold, indication of conditions that likely to facilitate mold, or any combination of issues present."
Persons who perform mold abatement (remediation) must be a licensed mold remediation contractor. "Mold remediation" or "mold abatement" is the act of removal, cleaning, sanitizing, or surface disinfection of mold and mold containment. It also means waste handling of mold and materials used to remove mold from surfaces by an individual. Read more about about home inspectors and mold licensing from the New York State website.
For more information about hiring a trusted mold assessor on Long Island, NY, please contact us today. We will answer any and all of the questions you have. The number for our office is 631-275-5999. When you call, we can provide you with all of the necessary details about mold assessment and its benefits.
New York Indoor Air Quality Solutions
80 Old Brook Road
Huntington Station, NY 11746
631-275-5999
---
NY IAQ Solutions is in compliance with both the remediation and assessment licensing laws. Any company which holds any previous certifications and not a NY State Department of Labor mold license does not meet the current licensing requirements.