Professional Mold Inspection & Removal on Long Island
Mold is dangerous and not something you want lurking in your home or office. Mold can cause illness and produce debilitating side effects. With mold, it is important that you remove it as soon as possible. Our professional mold removal and cleanup team with ensure your home or office is free of mold. For good! There are certain signs of mold illness to help you decide if there is a problem or not. Learning and understanding these signs can lead to positive effects on your health.
So please, do not hesitate to reach out today to learn more about our mold removal services. You can fill out our contact form and list your concerns or needs. We will get back to you as soon as possible. The number for our office is 631-275-5999. When you call, we can further discuss what it is you need and go over the mold cleaning options with you. We provide our mold services for homes and businesses across Long Island, New York. Many in the area turn to us for professional mold removal.
Symptoms of Mold Illness
Mold is a scary and produces illness because it is composed of biotoxins that your body simply cannot process. When these biotoxins enter the body, they cause a range of symptoms and illnesses. These symptoms are different in people, so it is important to understand the full range of symptoms and possibilities. Due to this range, mold illnesses are often misdiagnosed. This comes down to the fact that many of these symptoms get passed off as allergies.
Yes, mold can cause an allergic reaction. But do not assume that the sneezing or allergic reaction is normal allergies. Talk to your doctor if you have any of these symptoms below and especially if these symptoms persist. You do not want any of the complications that come from mold illnesses, such as asthma, sinusitis and inflammation of the lungs.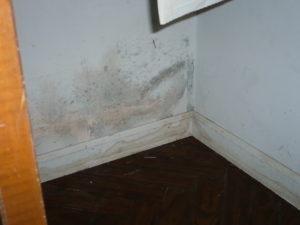 To help combat mold, get professional mold inspections. Here are the 10 most common signs of mold illness. Learn these signs of mold illness to better prepare yourself for the possibility of needing professional assistance with mold removal.
1. Sneezing
The most common symptom of mold is sneezing. Mold spores get into your body and irritate the nose and throat, which then causes you to sneeze. As you can imagine, many illnesses cause sneezing, which makes mold a tough one to nail down.
2. Stuffy or runny nose
When mold infiltrates your body, your immune system creates mucus to defend against the incoming mold spores in order to stop them. This causes the runny or stuffy nose.
3. Coughing
When you inhale mold spores, the lining of your throat gets irritated, which causes coughing fits. Longer exposure to mold in the home or office may lead to more severe symptoms, such as pneumonia and bronchitis.
4. Itchy throat, nose, & eyes
Mold triggers the human body into releasing histamine, which is exactly what pollen and other allergens do, too. Itchy eyes, nose and throat are the most common reactions of histamine.
5. Watery eyes
Another symptom of histamines is causing your eyes to water. When it comes down to it, histamines are simply chemicals in the immune system. They operate by flushing the allergens and other toxins out of your body. In some instances, histamines trigger watery eyes that push these allergens out.
6. Postnasal drip
A postnasal drip is another form of histamine reaction to remove the mold spores from your body. For noses that continue to run, the body's immune system creates mucus. This mucus defends against the incoming spores and aims to prevent them from entering the body.
7. Dry skin
Irritation and/or inflammation of the skin is another common allergic reaction to mold in your home or office. This happens as a reaction to the allergen in your immune system and why prolonged exposure can even cause hives.
8. Wheezing
When you inhale those mold spores, they irritate and inflame the lining of your throat, the bronchial tubes and your lungs. By doing so, your airflow gets restricted, which then leads to the wheezing.
9. Shortness of breath
Often when you begin wheezing, you will also experience shortness of breath and difficulty of breathing. The severity is circumstantial of course. For those with asthma, mold exposure can cause more severe reactions, including a full-on asthma attack.
10. Tightness of chest
Many who get exposed to mold often claim to experience chest tightness and pain. Sometimes the tightness is simply a minor pressure. And the symptoms range from a severe pain to a small discomfort.