Long Island Mold Removal Services
Mold is a fairly common problem for many on Long Island and New York, so safe removal is important! At New York Indoor Air Quality Solution, we offer safe and effective mold removal for homes and businesses across Long Island. So if you have a mold problem that needs dealing with, then turn to the pros! Your health is at stake!
For more information about our services, please reach out to us today. We will happily answer any questions or concerns you may have about our mold removal services and how they can improve your health. You can give our office a call today and set up an appointment for an inspection. When you call, we can provide you with all of the necessary details for our services. Below you will find some helpful information about mold and what to do about it.
For expert advice, give us a call! The number for our office is 631-275-5999. When you call, we can discuss the common symptoms for mold. This way you have a better understanding of the situation and what sort of mold removal services you require.
Mold Removal from Buildings
Homes, schools and office spaces are all locations that suffer from mold. Or at least can suffer from mold, so the removal of it is important for safety reasons. When mold grows in homes and buildings, it often indicates that there a larger issue with water or moisture. So this is the first problem to address.
First, you must remove all moldy items from the living areas. Because once the mold starts to grow in the carpet, insulation, ceiling tiles, wallboard or drywall then the only thing to really to is remove and replace.
Properly cleaning and drying the area is crucial, because you can have an allergic reaction to parts of the dead mold. On top of that, mold contamination may happen is there is still a source of moisture. So it is important to get to the source and remove all the mold.
How To Keep Mold Away
Mold removal is only as effective as the long-term ability to keep mold away for good. When you turn to NY Indoor Air Quality, you will be getting the best mold removal for your money. We will remove the mold and ensure that it does not return.
In a nutshell, our mold removal comprises of inspecting the buildings for evidence of water damage. Seeing if there is visible mold. And then correcting and removing the mold. Correcting the conditions for mold growth is crucial, since that will make sure your no longer have a mold problem. This includes fixing water leaks, condensation, infiltration or flooding.
When working on mold removal, there are some measures you can take to control mold growth. You can control humidity levels. Quickly fix leaky roofs, windows and piping. Thoroughly cleaning and dry after flooding. And make sure showers, laundry and cooking areas have proper ventilation.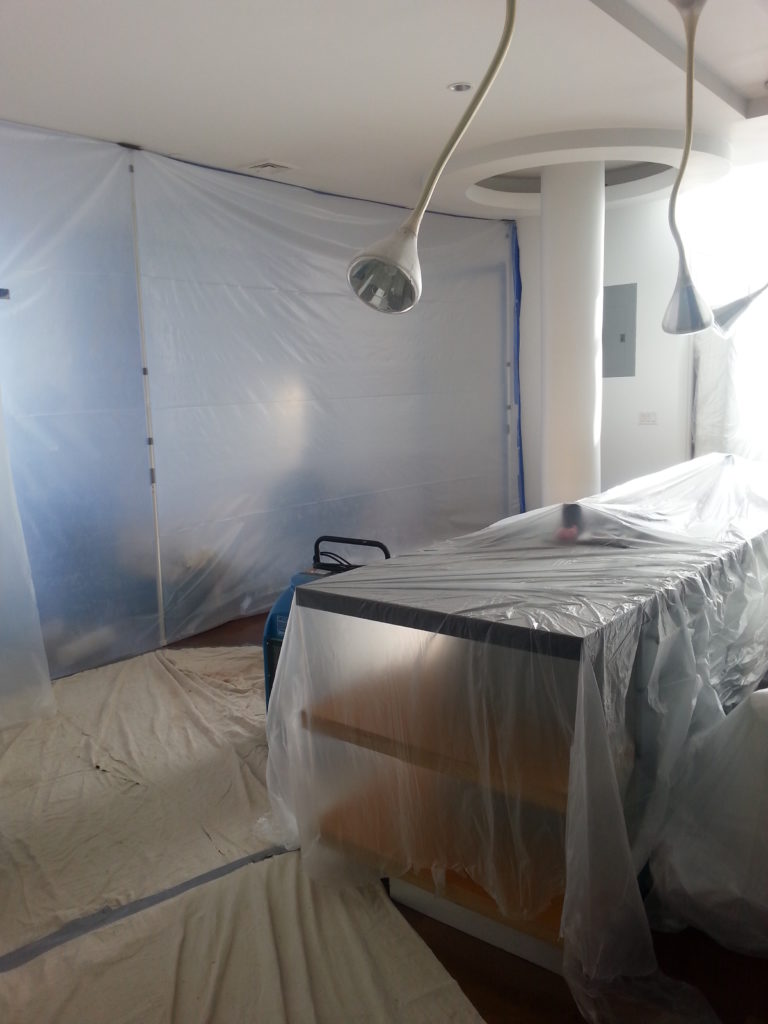 Mold Control Recommendations
Here are some useful recommendations to follow after our mold removal services in order to keep the mold away. You can learn more about mold safety by visiting the CDC website.
Keep humidity levels as low as possible. The CDC recommends between 30% and 50%. Using an air conditioner or dehumidifier will help keep these levels low. It is important to note that humidity levels will change over the course of a day. Changes in the moisture in the air and the air temperature means you will need to check the humidity levels a few times per day.
During the humid, summer months use an air conditioner or a dehumidifier. This ensures that no mold growth occurs in damp spots.
Check your home's ventilation and make sure it is enough. In your bathroom and kitchen, use exhaust fans to that hot air vent outside your home. And make sure your clothes dryer vents outside your home, too.
Promptly repair any leaks in your home's roof, walls, or plumbing. This way mold has no moisture to grow.
Carpets in bathrooms and basements often harbor mold growth. So consider not using carpets in those particular room.