Mold Inspections for Businesses & Homes on Long Island
Get professional mold inspections when you turn to New York Indoor Air Quality Solutions. Our team of experts will effectively survey your premises for mold. From residential mold inspections to commercial inspections, we can help you out. There are a few different reasons why you may want a mold inspection. One of them is when you are buying a new home. It is worth conducting a mold inspection of a potential new home, because it can influence your decision to buy the home. Or decide if there is work that needs to be done before committing to it.
And of course, you may want an inspection for your home because you believe there may be mold and would like a professional to come and inspect. We have the proper tools and overall expertise to reach a conclusion. If we determine there is mold, then we devise a proper plan of action. So please, do not hesitate to reach out to us today. When you do, we can discuss what you need and learn the details of the job at hand. Unsure if you need a mold inspection? Learn more about when you may need to get one. If you think you do, then please give us a call and schedule an inspection.
What Happens During Mold Inspections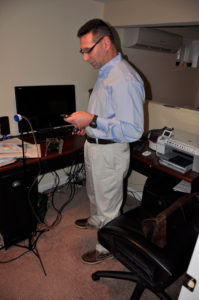 For the most part, mold inspections can be as simple as a visual inspection of the house. Oftentimes we do not need special equipment, since we know exactly what to look for and where to look for it. A good flashlight and access to hard to reach places is all many inspections require. For example, a way to remove grates to inspect HVAC ducts. However, we do have the tools and equipment when the job calls for it. Like the use of cameras, so we can see those places we cannot reach. A handy tool is also a moisture meter, which indicates if a particular area is wet.
We begin many mold inspections by simply talking to the property or home owner about any areas where they may have seen mold. Or if water damage or any moisture problems have existed in the past. We will use this information to thoroughly review the premises and check places prone to mold growth. During these inspection, we may discover that mold is growing in an inaccessible space. So we may need to figure a way to maneuver to see inside. This could be an aforementioned duct or we may have to remove a section of drywall or paneling to get a better look.
Once we find mold, we then need to find the origin of the moisture. However, if you can already see the mold, then we do not need to waste time with an inspection. Our team can move right along to the remediation process.
After The Inspection
If the inspection yields no mold then you are in the clear! However, if the inspection finds mold in your home, then the next step is to make a remediation plan. We begin the mold remediation by removing the source of the moisture, which is allowing for the mold growth in the first place. Failing to remove the moisture means the mold will just grow back. So we are thorough in this process.
Harder surfaces can simply be scrubbed and washed. For softer surfaces, like carpets and foam tiles, we likely need to cut them out and replace them. Washing and scrubbing is not very effective for those surfaces. During our remediation and removal, we will work with you to ensure all of the safety protocols are in place and that everything is handled under the EPA guidelines. Mold can be dangerous, so leave it to the professionals to handle!
Contact NYIAQ Today To Schedule Inspection
New York Indoor Air Quality Solutions has years of experience providing mold inspections for home and business owners across Long Island, NY. Including ones for prospective new homeowners to help close a deal. You might think you have mold in spots, but it can be difficult to tell. When this is the case, turn to the pros at NYIAQ! Learn more about how to reduce mold illness in your home.
For more information about our mold services, please contact us today. We will happily answer any questions or concerns you may have in regards to mold inspections and their importance. We proudly service home and business owners across Long Island, New York. The number for our office is 631-275-5999. When you call, we can provide you with all of the details regarding our work.