New York Indoor Air Quality Testing Services
New York Indoor Air Quality Solutions offers professional air quality testing for homeowners and business owners throughout Long Island, New York, which includes the Hamptons and East End LI. This testing is crucial in order to keep everyone in your home or office safe from dangerous allergens. Our professional team of residential and commercial mold assessors will effectively combat your poor air quality. And get to the bottom of the issue. Get indoor air quality testing results that you can trust.
When Home Indoor Air Quality Testing is Needed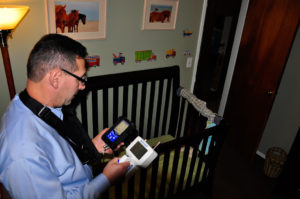 There are certain situations where you should test the indoor air quality of your home. Delaying this testing can lead to adverse health effects. So if you can check any of these boxes, then please reach out to New York Indoor Air Quality Solutions.
Health issues lingering. Allergies, nausea, headaches, fatigue, shortness of breath and bronchial, skin and eye irritations fall under the common health issues from poor air quality.
Changing, renovating, remodeling or expanding a property or heating/ventilation/air-conditioning system.
After your home suffers a fire, flood or disaster.
When you plan on buying a home or commercial building.
Don't put your health at risk any more and let the pros at NY Indoor Air Quality Solutions come down and inspect your home or commercial building. Mold is a very common reason for these poor indoor air qualities. So if you need mold removal, our team is the one to turn to!
Commercial Indoor Air Quality Testing
Poor air quality inside the home may differ from poor air quality inside a commercial building. So what leads to poor air quality inside a commercial or office building? Here are some common reasons:
Mold
Inadequate ventilation
Chemicals
Pest infestation
Volatile organic compounds
Bacteria
Radon
Building renovations
All of these aspects can affect the quality of air in a commercial or office building. If any of the common irritants persist, then you might have an air quality problem. This is not uncommon, as many buildings fall prey to indoor air quality issues. The result of these issues can be more employees take sick, as well as simple loss of productivity due to the circumstances. So it is wise to take care of these issues as soon as possible.
Contact NYIAQ Today
New York Indoor Air Quality Solutions has years of experience testing and remediating air quality issues in homes and commercial buildings across both Suffolk and Nassau County on Long Island, as well as in The Hamptons and East End LI. The number for our office is 631-275-5999. When you call, we can provide you with a no-obligation consultation and go over the air quality issues that is causing you problems. Learn more about the importance of mold inspections and how you can avoid some long-term issues simply by dialing our phone number!