#1 on Long Island for Mold Testing
When it comes to testing for mold, there are some common reasons why it may be necessary. New York Indoor Air Quality Solutions has years of experience offering professional mold testing to clients throughout Long Island. We are fully licensed and will get to the bottom of your mold problem promptly.
Mold testing is not always necessary, but there are times when it is definitely a good idea. So here are some reasons why you should look into mold testing for your home or office.
When You Can Smell Mold but Can't See It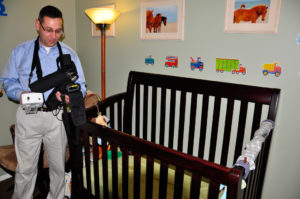 Oftentimes you can see the mold in some common areas. However, there are times when you may not be able to see any mold, but you can smell it. If that is the case, we recommend testing for mold to be certain. It is not something you want to linger and perhaps grow. Mold can buildup in the interior of the drywall, since damp drywall offers both moisture and a source of food from the paper backing. When we test, we can identify whether there is mold there and come up with a game plan to remove it.
Insurance Company Requirement
It is not uncommon for insurance companies to require mold testing. This can go for both homes and office buildings. If insurance is going to cover something, they need to make sure it is necessary. Getting a mold test will prove that you need professional mold removal. And we can work with insurance companies to make this easily happen.
For Home Sellers or New Home Buyers
When a home is being sold, there are a lot of aspects that need to happen in order for the sale to be complete. One of them is providing indoor air testing to make sure that the air quality is up to standards. A mold test is an essential part of the home buying process, since it informs new owners before moving in.
On top of just the information, mold testing also serves as a mode of protection. Buyers and sellers need to know if the homes meet the standards that are set out in the sale contract. So, if the air quality is low, then it could impact the sale. Our indoor air quality testing methods provides accurate and detailed results.
For Specific Health Concerns
There are certain health concerns that revolve around the quality of the air in someone's home or commercial facility. Perhaps someone is suffering from headaches, constant sneezing, or coughing without there being an obvious concern. People's reactions to mold differs, so to rule out some causes a mold test for the home of commercial building may be necessary.
Want To Make Sure Mold Growth Hasn't Returned
When you recently had a mold problem, it is wise to check back a few months after the removal to make sure it has not returned. Whether it was due to a leak in your home or constant high humidity, making sure the mold growth did not return can offer some much-needed peace of mind. Our mold testing will prove once and for all that the mold is gone.
Plumbing Problems
If your home or commercial building has had plumbing problems, then mold growth may be possible. There are various plumbing issues that arise that lead to mold, even if you can't see it. Whether there is a constant leak happening somewhere or you recently had a major plumbing problem, it may be wise to get a mold test to make sure the air you are breathing is clean.
Get Professional Mold Testing on Long Island with NYIAQ
When you turn to New York Indoor Air Quality Solutions, you can trust the results of the mold testing we perform. Your health is no joking matter and should not be left in the hands of anybody who is not a professional in this field. Mike Shain of NY Indoor Air Quality Solutions is an expert on reducing asthma triggers, mold problems, VOCs and more when it comes to testing air quality in homes and offices. He is an Environmentalist with a passion and that passion is to use his knowledge of molds and other indoor air triggers to improve the overall air quality as part of their assessments and subsequent treatment plans.
Mike Shain is a qualified and fully licensed professional who can ably eliminate the mold and other allergens from start to finish. Mold is the cause of many kinds of respiratory illnesses that affect people of all ages, so it important to remediate the mold. Especially if you have children in the house.
Get testing results for mold that you can trust when you turn to New York Indoor Air Quality Solutions. We extend our services to clients throughout Long Island (Nassau County & Suffolk County), as well as Queens and the Hamptons. For more information about our various services, please reach out to us today. The number for our office is 631-275-5999. When you call, we can schedule a date and time to test your home for mold. So please, do not put your health at risk and get a pro to test for mold. Learn more about what to look for when it comes to mold in the home or office. And better prepare yourself for what to do.