#1 Team on Long Island for Professional Mildew Odor Removal
The team at New York Indoor Air Quality Solution offers top quality mold and mildew odor removal for home and business owners on Long Island. From the east end and the Hamptons to Queens and everywhere in between, we get the job done! We have years of experience removing mold and mildew from homes and offices. So if you smell mildew, then it is likely that you have mold. Our team of professionals will come down and inspect your home or business. Get residential mold removal that you can trust when you turn to New York Indoor Air Quality Solutions!
For more information about our services, please reach out to us today. We will happily answer any questions or concerns you may have about mildew odor and mold removal. Ensure the air you are breathing is safe and healthy. And do so by calling 631-275-5999. When you call, we can further discuss the exact problems and come to a safe and simple solution. And during our removal of the mildew and mold, we aim to prevent these problems from happening again. Check out all of the services we offer home and business owners on Long Island, New York.
How Dangerous is Mildew?
In a nutshell, mildew is only as dangerous if you do not take care of it early on. Mildew looks like a powdery, spotty substance that you often find on fruits, vegetables, and plants. Mold is the thicker residue and can cause structural damage, since it is able to penetrate more deeply into the surface. You will commonly find mold in places like walls, flooring, towels, tiles and clothing.
However, mildew is an early sign of mold. Frequent exposure to it can cause respiratory issues and other health problems. If you have asthma or a compromised immune system, the impact can be even greater. And a moderate amount of mildew exposure can cause symptoms such as itchy eyes, sneezing and coughing.
And then we come to the impact mildew has on the building or home. Not properly eliminating mildew can eat away at the structure of a building or home and eventually lead to the walls and ceilings decomposing. Mildew can also grow in weird spots and damage porous objects, like your carpet or pieces of furniture. So, the longer you wait for the mildew odor removal, the more expensive the repairs may be.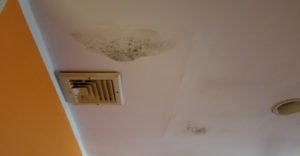 Moldy and musty smells share some similarities in that they both come from the growth of mold or mildew, which usually happens in damp areas. You may think that since a musty smell is not as strong as a moldy one that it is not as bad or that you do not need to take care of it right away. WRONG! You should take both concerns seriously and deal with them appropriately.
Mildew Odor Removal Steps
When you turn to New York Indoor Air Quality Solutions, you are turning to one of the best teams for mildew odor removal. Due to our years of experience, we have seen it all and know the proper steps to take in order to effectively remove any mold and get rid of that bad mildew smell. Here are the common steps we take in order to clean up your home.
Step 1: Find the source of the mildew.
Step 2: Protect yourself using respiratory protection and gloves.
Step 3: Mix one cup of bleach with one gallon of warm water.
Step 4: Dip a toothbrush in the bleach mix and start scrubbing.
Step 5: Repeat until the mildew is gone.
Step 6: Fully dry the area using a rag or towel.
Would you like a more detailed rundown of the steps? We have you covered! We offer the best mildew odor removal services on Long Island, New York. Helping homeowners get rid of that nasty, musty smell. Have it professionally removed by our team of experts today.
How to Prevent Musty Smell from Returning
Now that the removal of the mildew odor is complete, let's make sure it does not return, right? The best way to prevent the return of the musty smell is by maximizing the air circulation and keeping the dampness to a minimum. Install fans in your bathrooms, kitchen, and basement if possible. And try to keep them running whenever moisture enters the home. Like if there is rain or do so while showering or when cooking. You can also leave the fans running to allow the area to fully dry.
For more information about mold and its dangers, check out the CDC website. Learn about the mold and its effects. Our mildew odor removal is available for both residential and commercial clients throughout Long Island, New York. If there is a mildew smell in your home or office building, turn to New York Indoor Air Quality Solutions ASAP.