#1 Team for Mold & Mildew Removal on Long Island
As professionals in the mold removal field, we know how to effectively remove mildew and mold from any home or business. There is no shame in turning to a professional for help when it comes to the safety of the air you are breathing. However, we understand there may be circumstances where you want to alleviate the situation yourself. Although we highly recommend reaching out to a professional, we also want to help any way we can. We are the #1 team on Long Island when it comes to the safe and effective removal of mold and mildew. Our results speak for themselves!
Step-By-Step Musty Smell Removal
Here are some detailed steps on removing that musty mildew smell from your home our business. The experts at New York Indoor Air Solutions can effectively remove any mold or mildew from your home or building and will follow similar steps to what you find below. Of course, every job is different and requires a professional touch, but in general this is a typical rundown of a step-by-step process of how to remove mildew.
Step 1: Find the source!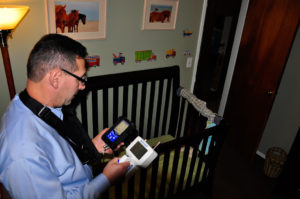 The first thing that needs to be done is to find the source of the mildew and/or mold. If the source is not obvious, then you will need to do some searching. Remove items from an area, inspect the corners, ceiling, grout, tile, tub caulking, you name it. You should also check porous objects, such as carpets, clothing, and upholstered furniture. Worst case scenario you remove all the objects from a room. You gotta do what you gotta do.
Step 2: Create bleach mix
Simply combine one cup of bleach with one gallon of warm water. And stir.
Step 3: Protect yourself using respiratory protection and gloves
Put on rubber gloves to protect your hands and skin. And make sure to wear a mask to make sure you do not breath in any chemicals, the bleach mix, or the mold. And make sure there is plenty of ventilation in the room.
Step 4: Remove the mildew
To remove the mildew, dip a toothbrush into the bleach and water mix. Then, scrub the mildew stain vigorously. Remove the bleach residue with a clean, wet sponge once you are done.
Step 5: Repeat
You must repeat the previous step as many times as necessary until the mildew is completely gone and you can no longer smell the musty odor.
Step 6: Completely dry the area
Once you are finished removing the mildew, completely and thoroughly dry the affected area. To do so, use a rag or towel. Be thorough, because any remaining residue, moisture, or water may make the mildew return along with the same musty smell.
Products Needed for Mildew Removal
When we come down to perform professional mildew and mold removal, we come prepared with the products and materials needed to get the job done right. Here is a list of some of the common items we will need to use in order to effectively remove mildew and mold from your home or office.
Rubber gloves: Use for protecting your hands and skin from chemicals and mold.
Face mask: Wearing a face mask prevents you from breathing in chemicals and mold while cleaning.
Bleach: Use bleach in the mix (presented above). The main active ingredient of bleach is sodium hypochlorite, which is effective at eliminating mold and mildew and those bad, musty smells.
Toothbrush: Using a small toothbrush allows you to get directly to the mildew problem. Use it by dipping it into the bleach mix and scrubbing.
Sponge: For larger areas of mildew, then using a sponge or larger brush may be more effective than a toothbrush.
Rags: Use these at the end of the cleaning process to completely dry the affected area and remove all wetness or moisture.
Contact NYIAQ Today for Expert Mildew Removal
For more information about how to remove mildew and how our services can help you, please get in touch with us today. You can fill out a contact form and we will get back to you at our earliest convenience. Or you can give our office a call by dialing 631-275-5999. When you call, we can further discuss the issues you are having with mildew and provide answers to your questions. So please, for the best mildew removal on Long Island, turn to NY Indoor Air Quality Solution. We have years of experience in this field and will make sure the air you are breathing is clean and safe!