Professional Testing For Black Mold on Long Island
New York Indoor Air Quality Solutions offers professional black mold testing for home and business owners throughout Long Island. Getting rid of black mold can be difficult, especially if it is behind wallpaper or ceiling tiles. Our black mold testing allows you to have some piece of mind by knowing black mold is an issue, which you can couple with our removal services. Get the best black mold testing and removal services on Long Island when you turn to New York Indoor Air Quality Solutions!
How To Identify Mold In Your Home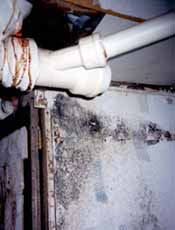 We understand that before turning to a professional, you want to check and make sure that black mold is present. So here are some ways for you to identify black mold in your home or office.
Look for appearances or dark spots or clusters. Check for spots or clustered growths, especially in warm, moist rooms. These can be breeding grounds for black mold.
A musty smell may mean it is black mold.
If you experience asthma attacks or allergy symptoms in your home, that may also indicate that there is black mold present.
Look for potential causes of mold growth, like a leak, water damage, lack of ventilation, or old food, papers, or wood. These potential causes can lead to mold growth, so if there is a reason there may be black mold, checking specifically in that area may yield results.
But identifying black mold in your home is not the full measure of the issue. Our testing for black mold will confirm or deny those suspicions. Once we know what we are dealing with, we will consult with you on a game plan on how to effectively and safely remove the mold.
How To Prevent Black Mold
Now that you had a black mold scare, there are simple ways you can reduce the amount of black mold your home. Full prevention is often difficult, but these do's and don'ts will reduce the chances that mold growth occurs in your home or office.
Do's
Regularly clean your home, especially the bathrooms, which are more prone to mold.
Open doors and windows when you can and run fans for ventilation when you bathe, shower, cook, wash dishes, or do any other activities that increase the moisture levels in the home.
Use a dehumidifier to keep indoor relative humidity (RH) below 50%, which reduces likelihood for mold growth.
The use of an indoor air purifier with a high-efficiency particulate air (HEPA) filter cuts down on the chance of mold growth.
Installing an appropriate high-efficiency filter in your furnace or ventilation system works great at reducing chance of mold growth. This option does not remove the source of the mold though, so you will still need to remove the mold at some point, but it will help reduce any allergy symptoms.
Quickly fix any leaks in your roof or walls.
Clear out your rain gutters and make sure they are not blocking the water from being drained.
If you experience flooding, make sure the area is clean and dry within 48 hours. Otherwise you run a high risk of mold growth.
Don'ts
Do not leave old books, newspapers, or wood sitting unused for long periods, since they trap mildew and mold allergens.
Do not put carpet in rooms like bathrooms, kitchens, or basements.
Don't ignore leaks from pipes or groundwater and fix them ASAP.
Do not simply paint over mold. That does not stop it from growing or prevent you from experiencing symptoms from it. You must clean the area and allow it to dry before painting.
Symptoms of Mold Exposure
Mold can affect people in different ways. And sometimes you may not have any symptoms at all from it. But there are some common symptoms you may experience if you are sensitive to mold. And they may be more severe if you suffer from a mold allergy. The common symptoms are:
Coughing
Red or itchy eyes
Stuffy nose
Sore throat
Wheezing
Skin rash
For people who suffer from asthma, it can cause an asthma attack
Increase the difficulty in breathing for those people with a chronic respiratory disease.
Those with weakened immune systems are at a higher risk of fungal infections, which includes lung infections from mold.
Schedule Black Mold Testing Today
If you believe you have black mold in your home or office, then please reach out to us today to schedule a testing appointment. The number for our office is 631-275-5999. When you call, we can go over the mold issues you are experiencing and schedule a professional inspection to get to the bottom of it. Our results speak for themselves.
Mike Shain of NY Indoor Air Quality Solutions is an expert on reducing asthma triggers, mold problems and more when it comes to the quality of air in your home. He is an environmentalist whose passion is to use his knowledge of molds and other indoor air triggers to improve the air quality as part of their assessments and subsequent treatment plans. Get the best mold inspection and removal services on Long Island when you turn to us!